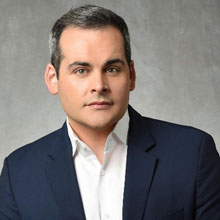 David Begnaud
David Begnaud goes beyond the headlines to give listeners insight and context to the biggest stories of the day.
David Begnaud is lead national correspondent for CBS THIS MORNING.  David delivers award-winning coverage as he travels to the front lines of the important breaking top stories.  Since joining CBS News in 2015, he has covered major news stories including the shooting at the nightclub Pulse in Orlando, Florida and the terrorist attack at the Inland Regional Center in San Bernardino, California.  His extensive, ongoing coverage of Hurricane Maria and its aftermath earned him the prestigious George Polk Award for public service and the Radio Television Digital News Association's First Amendment Leadership Award in 2019 for his significant contribution to the protection of the First Amendment and freed of the press.
David brings his unique perspective and insight to the important, meaningful stories that impact listeners every day on Reporter's Notebook.  With Reporter's Notebook, David continues the long-standing tradition of exceptional story-telling and original content that has made Reporter's Notebook one of the iconic programs of CBS News Radio.