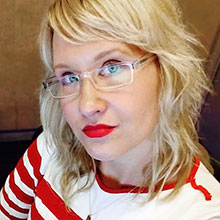 Jennifer Brown
In 2005, Jennifer Brown packed up her life in a U-Haul truck and moved from rural Wisconsin to New York City for the opportunity of a lifetime with CBS News Radio. During her time at the CBS Broadcast Center  Jennifer has covered the wars in Iraq and Afghanistan, the deaths of Saddam Hussein and Osama bin Laden, and hurricanes Katrina, Sandy and Maria.
CBS has been  woven throughout her career.  She began at CBS station WBBM in Chicago answering phones. Later in her career, Jennifer was a reporter and anchor at CBS Affiliate WTMJ in Milwaukee. Between news gigs, Jennifer was a DJ and a promotions director. A musician as a teenager, she played clarinet and piano and toured Europe with a concert band. Her love of music would eventually bring her to two turntables and a microphone, DJing clubs in the Midwest in her early twenties. But it was her love of storytelling that brought her back to news.
Jennifer has received awards from the Associated Press and RTDNA for feature reporting and news series producing and contributed to numerous other Edward R. Murrow award winning newscasts in her time at CBS News Radio.
She graduated from Columbia College Chicago with a degree in broadcast journalism. Her greatest pleasure is making her husband and two sons laugh. Her family is active in the Autism community and lives in Queens, New York.